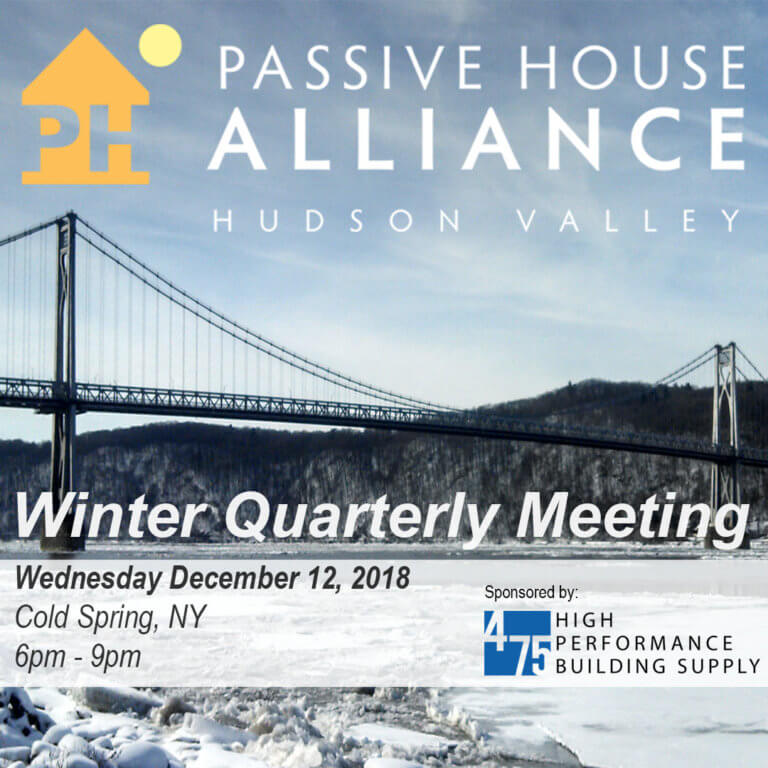 Please join us for our Winter Quarterly meeting
in Cold Spring, NY on December 12, 2018 from 6pm to 9pm.
Come learn about the most cutting edge building components, materials and details. First, witness these first-hand at an in-process construction tour hosted by PHA-HV members Ethan Timm (The Figure Ground Studio) and Nick Shaw (475 Building Supply) followed by a presentation by Nick looking further into these products and components. Then a presentation by James Hartford (River Architects) will give us a look at Passive House strategies occuring accross the ocean in Holland. Don't miss this invaluable opportunity to learn more and network with the leading PHIUS professionals in New York.
Information:
Pre-meeting tour (430p-6p) – Timm Muir House

Directions: Use GPS to locate: 18 Cedar St, Cold Spring, NY. Project is located behind Haldane School, next to the cemetery – visible from the road.

Sponsor presentation – Nick Shaw, 475 High Performance Building Materials
Feature Presentation – James Hartford, Passive House in Holland
Chapter business
Dinner will be served!
Click here for more information and to pre-register
---
Special thanks to our meeting sponsor:

475's mission is to supply essential knowledge and critical building components that will lead a transformation of the North American construction industry toward making durable high-performance, Passive House and zero-energy buildings.
---
---