"Creating a Healthier, Low-Carbon Future"
Northeast Notifications
Summer 2022
We're more than halfway through 2022 and there is lots of passive building news to share. Our quarterly meeting on June 9 welcomed more than 60 people for a site tour of North River Architecture's "FlexHouse III" in Stone Ridge. Newly-certified member projects in Ancramdale incorporate passive building design and technology in the creation of affordable homeownership opportunities for lower-income, first-time home buyers. Also, we're excited to return next month to Hudson Valley Brewery in Beacon for an evening of pizza, beer and networking for local passive building professionals.
---

Site Tour in Stone Ridge
More than 60 people joined us on June 9 in Stone Ridge for a tour of two North River Architecture residential projects which are iterations of NR's "FlexHouse III" Passive House design concept featuring flexible living spaces and long-term planning to facilitate adaptive configuration of the homes as living requirements change.
Special thanks to the design and build teams who highlighted the design, technical, energy performance, and construction considerations of these projects.
Filmmaker Teresa Torchiano joined us throughout the evening and created a short film about the event. We're excited to be able to share this unique experience with people who could not make the trip to Stone Ridge. The recording is available on our Youtube channel and photos can be found on the Chapter's Facebook and Instagram pages.
Our quarterly meetings bring together professionals from all across the U.S. and we could not make these events happen without support from sponsors. Thank you to our Spring 2022 event sponsor, NYSERDA! Becoming a sponsor is a great way to help your business reach hundreds of people in the passive building field. Want to become a sponsor? Learn more on the chapter website.
Save the Date for Beacon!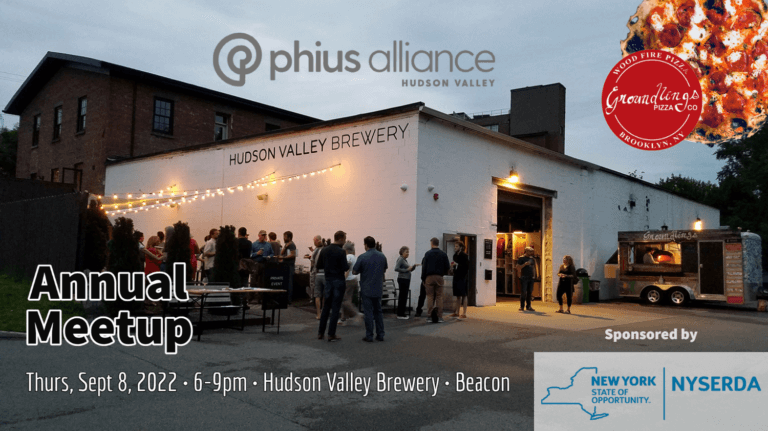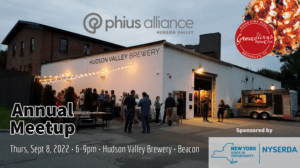 Join us next month on Thursday, September 8 at Hudson Valley Brewery in Beacon for our 2022 Annual Meetup.
We know our quarterly meetings are lots of fun, but this will be an especially informal gathering of pizza, local brews, and networking for new and seasoned passive building professionals. We'll also be celebrating our 6th anniversary as a chapter. Everyone will enjoy a selection of great local beers from Hudson Valley Brewery and smoking hot wood fired pizza from Groundlings Pizza Co.
This event is $5 for members and $10 for non-members. Please register through Eventbrite.
---

Project Highlight: Habitat for Humanity – Ancramdale
The Ancram Rural Build Passive Houses is a semi-attached single-family residential project designed by a volunteer team of Hudson Valley-based architects, engineers, and construction consultants, and constructed by Columbia County Habitat for Humanity (CCH4H) volunteers built in the village of Ancramdale, NY. These are the seventh and eighth CCH4H Passive Houses developed to create affordable homeownership opportunities for lower-income, first-time home buyers. Passive House design and technology results in minimal and consistent utility costs, which helps CCH4H lift their low-income workforce families free out from housing poverty. Read more.
---
Member Certified Projects
Hats off to Phius Hudson Valley members celebrating recent project certifications!

Santaella Gardens
Final certification date: 3/25/2022
www.thenyhc.org/projects/santaella-gardens
Habitat for Humanity Columbia County – Ancramdale
Final certification date: 4/27/2022
www.greenbuildingadvisor.com/article/a-small-town-confronts-a-tough-reality-housing-costs-too-much
69 Hillside Avenue
Final certification date: 4/28/2022
https://www.phiusny.org/projects/foreverhouse/
---
Broader Community Updates
AIA Westchester Hudson Valley
Design Awards: Call for Entries! 
The AIA Westchester + Hudson Valley Design Awards Program will honor projects exhibiting excellence in design. The Program's goals are to recognize local architects who have made a positive aesthetic and social contribution to the built environment, and as a result have increased public awareness of quality architectural design. Learn more.
Open Air Collective
This is CDR is an ongoing series of online events to explore the range of carbon dioxide removal solutions that are currently in development. In mid-June the team welcomed Carbin Minerals CEO Paul Needham and Chief Science Officer Dr. Greg Dipple to share how the company accelerates natural mineralization processes to unlock the enormous carbon removal potential of mine tailings.
---
Local Community Updates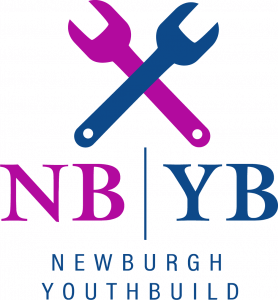 NEWBURGH YOUTHBUILD
Enrollment continues for the ongoing RUPCO YouthBuild program. This pre-apprenticeship program for City of Newburgh youth ages 16-24 helps participants earn nationally recognized certifications in construction and healthcare, develop leadership skills, and earn a weekly stipend. We were an early supporter of this project and are excited to share how we're helping organizers incorporate Passive House principles into curriculum. Stay tuned!
Participants have been busy this spring working with Newburgh Urban Farm and Food s well as the City of Newburgh Recreation Department on improvement projects throughout the city. The group also visited a Habitat for Humanity construction site. Check out the photos on the Newburgh YouthBuild Facebook page!
---
NYSERDA Updates


EMPIRE BUILDING PLAYBOOK: AN OWNER'S GUIDE TO LOW CARBON RETROFITS
Are you a building owner, asset or project manager, or real estate sustainability manager in charge of ESG goals for your company? Is your company taking proactive steps to make your building assets more climate friendly and resilient, and comply with local carbon reduction mandates? If so, this Playbook is for you. It is a resource that will help you frame your building efficiency and decarbonization goals within the context of real life case studies, harness lessons learned from real estate owners who have already gone through the process, and capture the economic benefits of high performance buildings.
---
New York State News
ACTION ITEM: Low Embodied Carbon Concrete Leadership Act
We did it! Phius Alliance Hudson Valley, along with other local stakeholders, helped get the Low Embodied Carbon Concrete Leadership Act (A2591A/S542) passed last year. Well done! Give yourself a big hug and get ready for more because the work is not done. If you are keen on details, you'll see that certain important elements got removed from that Act in order to get it passed. (Don't get us wrong, it's great it got passed, it just needs to get better.) So now, for 2022, there's a new Act brewing called the Climate Forward Concrete Leadership Act (A9042/S8174). That Act brings back some of those important elements to keep making concrete better. So, what can you do?? Talk to your local architect, engineer, builder, concrete company, and town department of public works and ask them how they're making their concrete more sustainable. And call your local and state representatives and tell them you want to see the world's most polluting construction materials (concrete) be made safer for a healthy, survivable future. Tell them you'd like their opinion of the Climate Forward Concrete Leadership Act (A9042/S8174) and to support it as your representative. Heck, tell them our lives depend on it, because it actually may. 😉
ACTION ITEM: Climate Forward Concrete Leadership Act
Senate Bill S8174 enacts "The Climate Forward Concrete Leadership Act" and relates to green procurement specifications for concrete. The general idea of this bill would establish rules related to material specification standards and producer performance incentives to improve the climate and environmental performance of concrete procured by New York State agencies. Read more.
We have one world to inhabit and one life to live in it. Let's leave the world in a better state than we found it – for generations to come. Find my Assemblymember.
---

Phius Updates
UPDATE YOUR PHIUS PROJECT LISTING
Make sure your project is properly showcased in the project database. Phius is asking for help in maintaining the Phius Certified Project Database as a valuable resource for passive professionals, members of the press, and policy makers. New data fields were added to the directory when the updated website launched earlier this year and now there are more ways to easily share passive building projects with the world.


PHIUSCON 2022
Emissions Down, Power Up! Registration is now open for PhiusCon 2022! This year's conference is scheduled for Oct. 25-28 at the historic Palmer House Hotel in Chicago. PhiusCon 2022 will channel the passive building energy buzzing in the Great Lakes Region into a must-see four-day conference. Learn more about Phius' flagship annual event.
TRAININGS
Stay up to date with Phius trainings at www.phius.org/become-a-professional. Consider becoming a member to be the first to learn about new resources and training dates.
Member Office Hours – Common Project Questions with James Ortega
August 9, 5pm CT, via Zoom
Phius Certified Builder Training – August 2022
August 15-26, Live virtual session
The course offers real-world insights into on-site implementation as well as counseling and advice on both the practical and business concerns specific to passive house. The material covers not only craftsmanship, but also risks and liability to the passive house contractor and guidance in both problem-solving and (more importantly) problem avoidance.
WUFI Passive for Beginners – August 2022
August 11-17, Live virtual session
This online session includes both tutorial style training as well as instructor-guided modeling completed by each student.
Intro to THERM
August 29-September 2, Virtual session
In this course you will learn the fundamentals of thermal bridges, how and why they're calculated, be able to quantify the linear heat transfer at component connection details, analyze those results, iterate to improve the detail, and create a thermal bridge report that could be used in a Phius Project Certification submission.
WUFI Passive Advanced, Multifamily
September 13-15, Virtual session
This course is focused on the use of WUFI Passive in design practices for multifamily projects and is intended to provide shortcuts, critical milestones and pro tips to streamline the process and ensure CPHCs can take advantage of the full capabilities of the software.
---
Join Our Chapter!
Your participation as a member is vital to the strength and effectiveness of our organization. Membership provides you the right to vote, hold office, and earns you great discounts to Phius events- including informative webinars, attendance to the annual North American Passive House Conference, and professional training courses. Dues go to great advocacy and coursework development at the national level, and a portion goes to support our chapter events. Learn more on the chapter website.
---