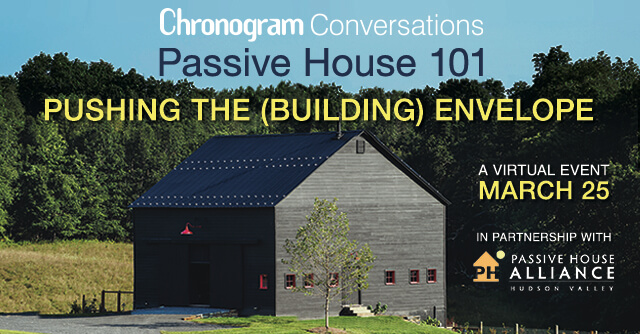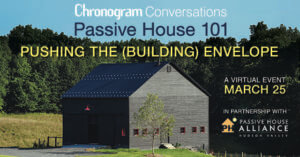 Tune in Thursday, March 25, 2021 at 4pm ET for a Chronogram Conversation presented by Upstate House and in partnership with Passive House Alliance Hudson Valley.
Chronogram editorial director Brian K. Mahoney will be chatting with local architects and builders about the principles, benefits, and designs of Passive House, as well as what incentives are available and how to determine if retrofitting your house is the right fit for you.
Panelists for this conversation include:
James Hartford AIA, LEED AP, CPHC—Principal, River Architects, PLLC
James Hartford's work is rooted in technical expertise and design sensibility. In addition to his excellent design skills, he contributes his building envelope expertise and leads the sustainable design process for each of the firm's projects. He is currently working on several Passive House projects that range from single family new construction and retrofits, mid-rise multi-family over commercial new construction, and a high-rise Energie Sprong-style Net-Zero building re-cladding.
Stephanie Bassler, RA, Certified Passive House Consultant—North River Design Build LLC
Stephanie is an expert in energy-efficient building design and a Certified Passive House Consultant. As North River's principal Architect, and a founding member of North River Design Build, her work has included large-scale master planning and development projects, numerous net-zero and Passive House residential designs, the Passive House-certified Women's Leadership Center at the Omega Institute, and a LEED-Certified multi-floor renovation for Eileen Fisher, Inc. in New York City. Stephanie is currently Vice President of the Passive House Alliance – Hudson Valley chapter.
In Cho, R.A., C.P.H.D.—Choshields Studio
In Cho is a Registered Architect, Certified Passive House Designer, and co-founder of architecture firm ChoShields Studio. For over twenty years, she has integrated environmental resiliency into her practice of creating and transforming people's spatial experiences to bring joy and well-being to their lives. Her wide-ranging focus encompasses the aesthetics of architectural design, technical aspects of energy efficient construction, policy support, and designing & teaching educational initiatives that convey building sustainability knowledge with the goal to empower everyone in addressing climate change so that we can together ensure a positive and equitable future for all.
John Loercher, Principle Consultant—Northeast Projects LLC
John Loercher is an Educator and Building performance consultant specializing in the Passive House method. He is the co-director of the Building Science program at Rensselaer Polytechnic Institute as well as an instructor for the Passive House Institute US. His consulting firm, Northeast Projects, specializes in zero energy building design, passive house design and advanced energy modeling and to date has worked on over a dozen certified Passive House projects throughout the East Coast of the United States. He is currently the secretary of the national chapter of the Passive House Alliance and the Northeast representative.
More panelists to be announced.
Register through EventBrite: https://www.eventbrite.com/e/passive-house-101-pushing-the-building-envelope-tickets-139962253869