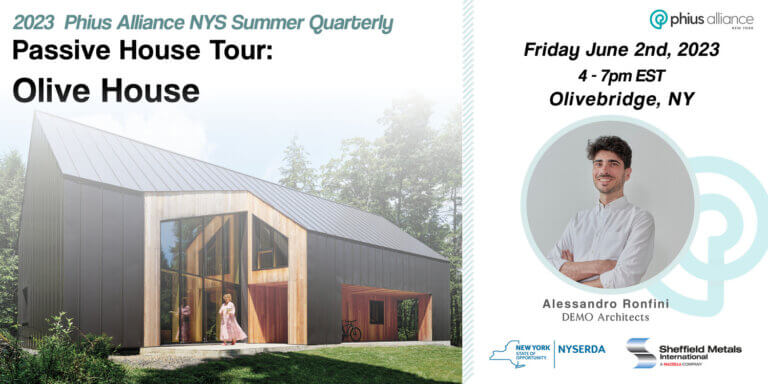 2023 Summer Quarterly
Passive House Tour: Olive House
Friday, June 2, 2023, 4-7pm
Join us for a tour of Olive Passive House, a 3 bedroom home designed and built by its architect owner in Upstate New York for his growing family. Conceived as a panelized structure, this house presents itself as a dark monolith from the
road and only reveals its warm and light interior past the threshold.
The main goal of the design is to optimize view, light, and privacy. The south-facing elevation is carved to point the view towards the East, framing the view of a small pond, while reducing the solar heat gain in the summer months. This carving movement continues on the ground floor, where it creates a protected porch to eat, read, and relax. As PHIUS-certified passive house, this building works exclusively on electric power and consumes almost 80% less than most homes built in the same area.
The event sponsor, Sheffield Metals, will share a product demo and abridged version of the AIA CES course, Designing for Sustainability with On-site Fabrication of Standing Seam Metal Roofs and Walls. Topics includes the energy efficiency of the metal panels with today's PVDF paint system resulting in a reduction of heat gain, the metal panel characteristics of recyclability, durability and long life cycle, and the reduction of the project's carbon footprint when embracing on-site fabrication strategy.
The house is located in Olivebridge in Ulster County, NY.
Agenda
4:00p – Arrival / Refreshments
4:30p – Tour begins
5:30p – Product Demo (Sheffield Metals)
6:00p – Q&A / Refreshments
Presenters
Alessandro Ronfini is an Architect, CPHC and principle of DEMO Architects
Lori Reynolds Morrow is a LEED Green associate and Architectural project manager at Sheffield Metals
Registration
This event is free and open to the public. Space is limited and advanced registration is required. The site address and housekeeping details will be shared following registration. Register on EVENTBRITE.
Sponsored by


Sheffield Metals International (SMI) is committed to providing contractors, manufacturers, architects, wholesalers and homeowners with the complete package — quality products, extensive technical expertise, and support throughout every project.


NYSERDA offers objective information and analysis, innovative programs, technical expertise, and support to help New Yorkers increase energy efficiency, save money, use renewable energy, and reduce reliance on fossil fuels. A public benefit corporation, NYSERDA has been advancing energy solutions and working to protect the environment since 1975.
About Our Chapter
Phius Alliance New York State (Phius NY) is the New York State chapter of Phius Alliance. Advocates for passive housing models work to make ultra-low energy buildings a mainstream market force and an accepted best practice in the building industry. Phius NY is your local resource for information about the passive house model and professionals who specialize in energy efficient design. Learn more at www.phiusny.org.
---