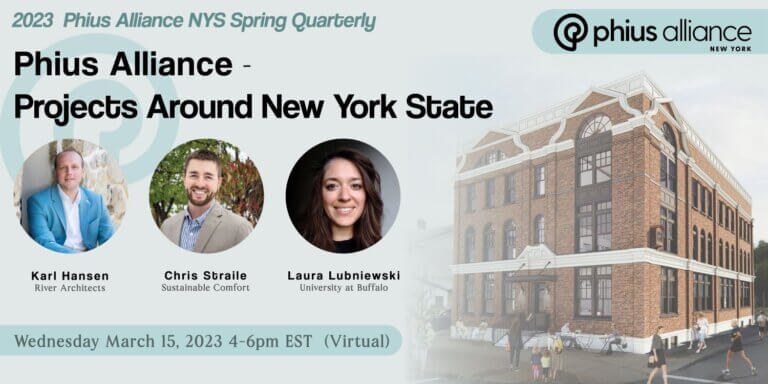 2023 Spring Quarterly
Couldn't attend? Find the meeting recording HERE.
Phius Alliance: Expansion in New York State
Wednesday, March 15, 2023, 4-6pm EST (Virtual)
Please join us for our next quarterly meeting. Learn about the chapter's expansion beyond the Hudson Valley region and how this will unlock new potential for people working to make passive building mainstream throughout New York State. Chapter leadership will share details on the recent board expansion, introduce new board members, and update attendees on exciting developments including the passive building university initiative.
This is a virtual event and advanced registration is required. Register through Zoom (HERE).
Speakers
Karl Hansen, River Architects
Karl serves as a Project Manager at River Architects. Upon joining the firm in 2017, Karl soon after earned his CPHC and has since enthusiastically tackled many high performance projects ranging in scale from residential to commercial. He currently serves as Vice President of the Phius Alliance – Hudson Valley (now NYS) Chapter. Karl earned his Bachelor of Architecture from the University of Arizona where he first began to develop his interest in metal fabrication.
Chris Straile, Sustainable Comfort
Chris has been a practicing green building consultant for over 10 years. He is currently a Senior Project Manager at Sustainable Comfort where he consults with architects, engineers and developers on high performance design strategies. Chris is not only interested in building design but actually how to build them, and that's why he acts as Sustainable Comfort's lead passive house Verifier including on Central New York's first affordable passive house project.
Laura Lubniewski, University at Buffalo
Laura Lubniewski and Nick Rajkovich are faculty in the Department of Architecture and Planning at UB and are Co-Investigators on the NYSERDA PON 3981 grant that is funding these initiatives. This past fall, 13 graduate architecture students at University at Buffalo have received CPHC training and passed their exams while applying their knowledge to designing 6 residential Passive House retrofits in Buffalo in partnership with local organization People United for Sustainable Housing (PUSH Buffalo).
Sponsored by


NYSERDA – NYSERDA offers objective information and analysis, innovative programs, technical expertise, and support to help New Yorkers increase energy efficiency, save money, use renewable energy, and reduce reliance on fossil fuels. A public benefit corporation, NYSERDA has been advancing energy solutions and working to protect the environment since 1975. Learn more at www.nyserda.ny.gov.
Phius Alliance New York State (PHA-NYS) is the New York State chapter of Phius Alliance. Advocates for passive housing models work to make ultra-low energy buildings a mainstream market force and an accepted best practice in the building industry. PHA-HV is your local resource for information about the passive house model and professionals who specialize in energy efficient design. Learn more at www.phiusny.org.
---