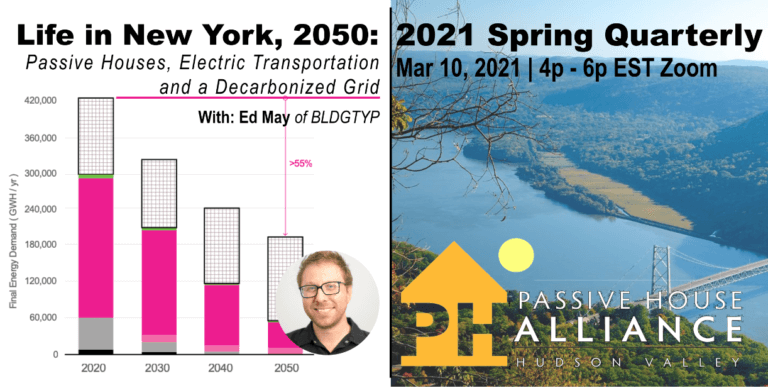 2021 Spring Quarterly Meeting
Wednesday, March 10, 4-6 PM EST
Please join us for our Spring Quarterly Meeting on Wednesday, March 10, 2021 from 4pm to 6pm EST. This is a virtual event.
This meeting will feature two presentations.
Life in New York, 2050: Passive Houses, Electric Transportation and a Decarbonized Grid
Ed May – Certified Passive House Designer & Partner at bldgtyp
New York State passed the 'Climate Leadership and Community Protection Act' into law in 2019. Since then, the technical plans for achieving the targets required by this law have begun to take shape and collectively they paint a dramatic picture of what New York State will look like in the decades to come. The state's new goals include procuring 70% of its electricity from carbon-free sources by 2030 and 100% by 2040, as well as a goal of statewide greenhouse gas emissions falling to 'net-zero' by 2050. This means a simultaneous 200-300% increase in the electricity capacity in the state, while also achieving a 50% reduction in total source energy consumption state wide.
In order to achieve these goals, a combined strategy is required where all energy consumption transitions to electricity and simultaneously the electricity grid itself becomes decarbonized. While electric transport rightfully receives much fanfare, less heralded is the shift away from oil and gas for building heating and hot-water and towards all-electric solutions. These all-electric buildings will require not only massive changes to building equipment but an overall reduction in energy consumption. Passive House technology can and should lead the way during this transition. This talk will look at the intersection of State level goals, the rapidly changing electricity sector, and how Passive House technology can be a key element in any successful shift to a cleaner and greener New York State.
Clean Energy Communities: NYStretch Energy Code-2020 Adoption
Chris Sgroi, Project Manager on NYSERDA's Codes, Products and Standards Team
David Tepper, Senior Planner with Cameron Engineering on Long Island
David will provide an overview of NYSERDA's recently-launched Clean Energy Communities Leadership Round, including information on grant availability and, more specifically, the NYStretch Energy Code-2020 adoption High Impact Action. A summary of NYStretch-2020 will focus on evolving elements including available resources, resources still in the works, as well as points that municipalities are encouraged to be aware of when considering adoption.
David Tepper is a Senior Planner with Cameron Engineering on Long Island. He has over 12 years of urban and environmental planning experience and has served as a coordinator for NYSERDA's Clean Energy Communities program since its inception. In addition to his role with Clean Energy Communities, Mr. Tepper's areas of expertise include coastal and resiliency planning, municipal planning, public infrastructure planning and the preparation of environmental analyses and environmental impact statements. He is also currently serving as Director of the Long Island Section of the American Planning Association (APA) New York Metro Chapter.
Chris Sgroi is a Project Manager on NYSERDA's Codes, Products and Standards Team. Chris has worked at NYSERDA for over 10 years, supporting programs to provide training and other services and resources to building design, construction and enforcement professionals, aimed at improving energy code compliance and enforcement. Most recently, Chris is leading outreach to promote local adoption of NYStretch Energy Code-2020, New York State's first above-minimum model energy code.
This event has been approved for 1.5 CPHC CEU.
This meeting will be facilitated through Zoom and registration is required. There is no charge for this event.
Register in advance for this meeting:
https://zoom.us/meeting/register/tJMscuCsqjgjE9SdMoF9vzBOA4TtCSxZ6_Ts
After registering, you will receive a confirmation email with instructions for joining the event.
Passive House Alliance-Hudson Valley is the Hudson Valley chapter of Passive House Alliance U.S. (PHAUS). Advocates for passive housing models work to make ultra-low energy buildings a mainstream market force and an accepted best practice in the building industry. PHA-HV is your local resource for information about the passive house model and professionals who specialize in energy efficient design. Learn more at www.phiusny.org.
---