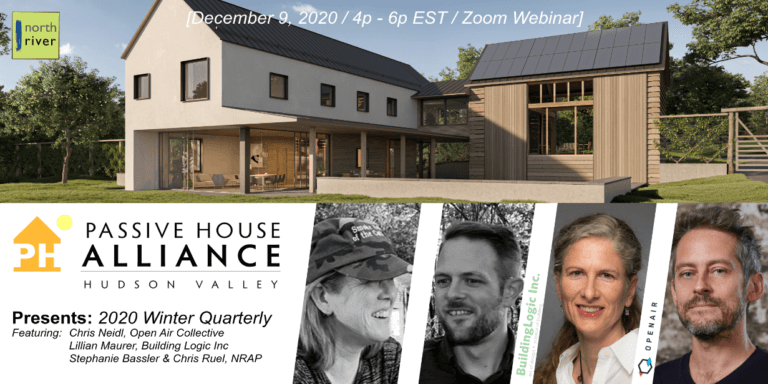 2020 Winter Quarterly Meeting
Wednesday, December 9, 4-6 PM
Please join us for our Winter Quarterly Meeting on Wednesday, December 9, 2020 from 4pm to 6pm.
This meeting features 3 presentations:
Chris Neidl, Open Air Collective
Advancing Climate Friendly Concrete in New York through State and Local Action
Concrete is the second most used material on earth after water, and its main binding ingredient, Portland cement, is a leading source of global carbon emissions. Established and emerging technologies and methods have the potential not only to reduce the climate impact of concrete, but to ultimately achieve carbon negativity through the use and storage of carbon in the concrete production process. Public policy has a big role to play in accelerating this transition, and New York State is poised to lead in this effort through new state legislation and the distributed action of local governments. This presentation will provide a short overview of the concrete-climate connection, and a summary of low carbon concrete policy and action taking place in New York State.
Chris Neidl is the co-founder of OpenAir, a volunteer action network advocating for negative emissions technologies and carbon positive practices in New York State and beyond.
Lillian Maurer, BuildingLogic, Inc.
Rethinking Assumptions: Building Without a Concrete Slab
A finished basement or at-grade floor can be solid, warm and dry without pouring a slab. The mining, processing and trucking in concrete production gives it a very heavy carbon footprint. For builders and designers to reduce the environmental damage caused by our work, we need to question long-held assumptions about how we build. Learn how to specify and build with a "Slabless-Slab" in your next project.
Lillian Maurer is a founding partner of BuildingLogic, where she combines her passion for materials and elegant solutions in high performance residential construction.
Stephanie Bassler, North River Architecture + Planning, PC
Gallatin Passive House: More Cowbell
Stephanie will illustrate how North River's Gallatin Passive House has allowed her team to refine their proven design strategies while exploring more complex forms and systems. This project is also the launch of the North River Design Build construction practice, challenging the team to fully prove out their design work. The presentation will touch on envelope, glazing, mechanical systems and volumetric design that the team found to be most effective for cost, and will illustrate how this project moves beyond earlier work, breaking some rules and having a little (more) fun. A virtual open walls tour will showcase the house in construction phase. North River's Construction Manager, Chris Ruel, will provide insights into his experience on the team's first self-performed construction, and John Loercher of Northeast Projects will review the project's WUFI and THERM modeling work.
Stephanie Bassler, a resident of the Hudson Valley for 14 years, is North River Architecture + Planning's principal architect and a founding member of North River Design Build, a Certified Passive House Consultant, and Vice-President of the Passive House Alliance Hudson Valley Chapter.
This meeting will be facilitated through Zoom and registration is required. There is no charge for this event.
Register in advance for this meeting:
https://zoom.us/meeting/register/tJMscOioqzgjE9CjJbQa1dIuf6paCBFWTu8i
After registering, you will receive a confirmation email containing information about joining the meeting.
PHA-HV is the Hudson Valley chapter of Passive House Alliance U.S. (PHAUS). Advocates for passive housing models work to make ultra-low energy buildings a mainstream market force and an accepted best practice in the building industry. PHA-HV is your local resource for information about the passive house model and professionals who specialize in energy efficient design. Learn more at www.phiusny.org.
---